From where did Native Americans originate?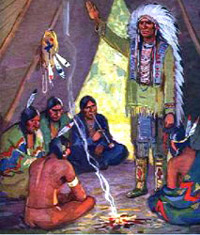 There are at least four conflicting beliefs about the origin of Native Americans.
There has been, until recently, a consensus among scientists that prior to perhaps 11,200 years ago, the Western Hemisphere was completely devoid of humans. They believed that:
Much of the world's water was frozen in gigantic ice sheets.
The floor of the Bering Strait between Siberia and Alaska was exposed.
Big-game hunters were able to walk to Alaska. They turned south, spreading out through the Great Plains and into what is now the American Southwest. Within a few thousand years, they had made it all the way to the tip of South America.
Recent archeological discoveries have convinced some scientists that people may have arrived far earlier than about 9200 BCE "in many waves of migration and by a number of routes" -- perhaps even from Australia, South Asia and/or Europe.
Many native tribes contest these theories. Their oral traditions teach that their ancestors have always been in the Americas.
Some Natives believe that their ancestors emerged from beneath the earth into the present world through a hole in the earth's surface.
Some Natives find the suggestion that their ancestors migrated to North America only a few tens of thousands of years ago to be quite offensive.
---
Native Religious Development:
Because of the wide range of habitats in North America, different native religions evolved to match the needs and lifestyles of the individual tribe.
Religious traditions of aboriginal peoples around the world tend to be heavily influenced by their methods of acquiring food, whether by hunting wild animals or by agriculture. Native American spirituality is no exception. Their rituals and belief show a blending of interest in promoting and preserving their hunting and horticulture.
Native spirituality was suppressed by the U.S. and Canadian governments. Spiritual leaders ran the risk of jail sentences of up to 30 years for simply practicing their rituals. This came to an end in the U.S. in 1978 when the Freedom of Religion Act was passed.
Eastern Subarctic, Eastern Woodlands, Plains and Southwest Cultures Native religions in these areas share some similarities. Tribes also differ greatly from each other. Spiritual elements found in some native religions are:
Deity: A common concept is that of a dual divinity: a Creator who is responsible for the creation of the world and is recognized in religious ritual and prayers a mythical individual, a hero or trickster, who teaches culture, proper behavior and provides sustenance to the tribe. There are also spirits which control the weather, spirits which interact with humans, and others who inhabit the underworld. Simultaneously the Creator and the spirits may be perceived as a single spiritual force, as in the unity called Wakan-Tanka by the Lakota and Dakota.
Creation: Individual tribes have differing stories of Creation. One set of themes found in some tribes describes that in the beginning, the world was populated by many people. Most were subsequently transformed into animals. Natives thus feel a close bond with animals because of their shared human ancestry. Dogs are excluded from this relationship. This bond is shown in the frequent rituals in which animal behavior is simulated. Each species has its master; for example, the deer have a master deer who is larger than all the others. The master of humans is the Creator.
Emergence of the Tribe: This is a concept found extensively in the Southwest. The universe is believed to consist of many dark, underground layers through which the humans had to climb. They emerged into the present world through a small hole in the ground - the world's navel. Other tribes believe that their ancestors have been present in North America as far back as there were humans.
Sacred Texts: Many tribes have complex forms of writing. Other tribes have preserved their spiritual beliefs as an oral tradition.
Afterlife: In general, Native religions have no precise belief about life after death. Some believe in reincarnation, with a person being reborn either as a human or animal after death. Others believe that humans return as ghosts, or that people go to an other world. Others believe that nothing definitely can be known about one's fate after this life. Combinations of belief are common.
Cosmology: Again, many tribes have unique concepts of the world and its place in the universe. One theme found in some tribes understands the universe as being composed of multiple layers. The natural world is a middle segment. These layers are thought to be linked by the World Tree, which has its roots in the underground, has a trunk passing through the natural world, and has its top in the sky world.
Shamans: Although the term "Shaman" has its origins in Siberia, it is often used by anthropologists throughout the world to refer to Aboriginal healers. Spirits may be encouraged to occupy the Shaman's body during public lodge ceremonies. Drum beating and chanting aid this process. The spirits are then asked to depart and perform the needed acts. Other times, Shamans enter into a trance and traverse the underworld or go great distances in this world to seek lost possessions or healing.
Vision Quest: Young boys before or at puberty are encouraged to enter into a period of fasting, meditation and physical challenge. He separates himself from the tribe and go to a wilderness area. The goal is to receive a vision that will guide his development for the rest of his life. They also seek to acquire a guardian spirit who will be close and supportive for their lifetime. Girls are not usually eligible for such a quest.
Renewal Celebrations: The Sun Dance amongst the Plains Natives is perceived as a replay of the original creation. Its name is a mistranslation of the Lakota sun gazing dance. Other tribes use different names. It fulfilled many religious purposes: to give thanks to the Creator, to pray for the renewal of the people and earth, to promote health, etc. It also gave an opportunity for people to socialize and renew friendships with other groups. A sweat lodge purifies the participants and readies them for lengthy fasting and dancing. It was successfully suppressed in most tribes by the Governments of the US and Canada. However, it survived elsewhere and is now being increasingly celebrated.
Sweat Lodge: This is structure which generates hot moist air, similar to a Finnish sauna. It is used for rituals of purification, for spiritual renewal and of healing, for education of the youth, etc. A sweat lodge may be a small structure made of a frame of saplings, covered with skins, canvas or blanket. A depression is dug in the center into which hot rocks are positioned. Water is thrown on the rocks to create steam. A small flap opening is used to regulate the temperature. As many as a dozen people can be accommodated in some lodges.
Hunting ceremonies: These involve the ritual treatment of a bear or other animal after its killing during a successful hunt. The goal is to appease its spirit and convince other animals to be willing to be killed in the future.
Prophets: The Abrahamic Religions (Judaism, Christianity and Islam) trace their development through a series of patriarchs and prophets. Native religions do not have as many corresponding revered persons in their background. Some Native prophets include Handsome Lake in the Iroquois Confederacy, Sweet Medicine of the Cheyenne, and White Buffalo Woman of the Lakota and Dakota tribes.
Traditional housing: There were many variations across North America: conical wigwams or tipis, long houses, and cliff dwellings. The shape of the structure often represents a model of the cosmos.
Use your browser's back button or the links provided below to return to the previous page.